The Buddha of Suburbia (Paperback)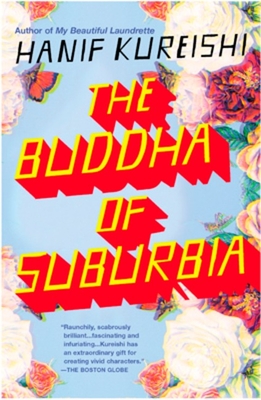 $17.00
Not in stock at store. Will, in most instances, ship from our warehouse in 7-10 days
Staff Reviews
---
If you liked the coming-of-age aspects of "Call Me By Your Name," the story of Elio discovering himself as a man and as an artist, you might try "The Buddha of Suburbia", a 1990 novel by Hanif Kureishi. Set in suburban London in the late 1970s and early 1980s, the book follows Karim, a restless, David Bowie-loving teenager who attempts to find himself through theatre and through Thatcher-era politics. It's a very smart and witty book that made a huge splash with the youth of England when it debuted.--Griffin
— From
If You Loved..."Call Me By Your Name"
Description
---
Karim Amir lives with his English mother and Indian father in the routine comfort of suburban London, enduring his teenage years with good humor, always on the lookout for adventure—and sexual possibilities. Life gets more interesting, however, when his father becomes the Buddha of Suburbia, beguiling a circle of would-be mystics. And when the Buddha falls in love with one of his disciples, the beautiful and brazen Eva, Karim is introduced to a world of renegade theater directors, punk rock stars, fancy parties, and all the sex a young man could desire. A love story for at least two generations, a high-spirited comedy of sexual manners and social turmoil, The Buddha of Suburbia is one of the most enchanting, provocative, and original books to appear in years.
About the Author
---
Hanif Kureishi grew up in Kent, England, and studied philosophy at King's College London. His novels include The Buddha of Suburbia, which won the Whitbread Prize for Best First Novel, The Black Album, Intimacy, and The Last Word. His screenplays include My Beautiful Laundrette, which received an Oscar nomination for Best Screenplay, Sammy and Rosie Get Laid, and Le Week-End. He has also published several collections of short stories. He has been awarded the Chevalier de l'Ordre des Arts et des Lettres and his works have been translated into 36 languages.