Lost in the Spanish Quarter: A Novel (Hardcover)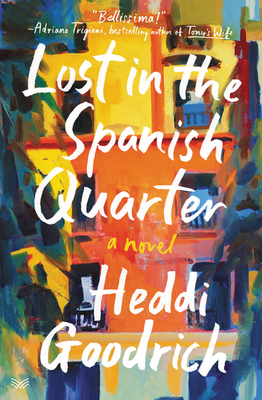 $25.99
May be on Backorder or may be Out of Print. May take a number of weeks to arrive if it arrives at all. We will confirm.
Staff Reviews
---
If you were drawn to Elena Ferrante's Neopolitan Novels because of their vivid evocation of the city of Naples, you might enjoy Heddi Goodrich's 2019 novel Lost in the Spanish Quarter, the story of an American woman studying linguistics at the University of Naples. While living in a communal apartment in Naples' storied Spanish quarter, she falls in love with an Italian man, confronting the difficulties of their cultural and familial differences and coming to understand herself on her own terms. A romantic, engrossing look at Naples in the contemporary era.--Griffin
— From
If You Loved..."My Brilliant Friend"
Description
---
As seen in the New York Times Book Review. 

Set in the passionate, intense, and crumbling neighborhood known as the Spanish Quarter of Naples, comes a tale of two students searching for love and belonging in the city they so desperately want to call home.

Years after leaving Naples with a broken heart, Heddi receives an email from her first love. Although she now lives in New Zealand, just the thought of the Spanish Quarter's narrow, winding streets sparks the pain of longing. Heddi had found her place in that city built on Roman ruins and set against a sleeping volcano. A place she wants to call home despite being l'americana or the American. For Heddi's group of university friends, Naples is either a refuge from their familial responsibilities or an entryway to a wider world. But for all of them, Naples was their real university of life: the setting of their unrestrained youth.
When Heddi first met Pietro at a party hosted by her bohemian roommates, she was inexplicably drawn to the serious geology student. Despite coming from wildly different backgrounds—Heddi, a nomadic American; Pietro, an Italian farm boy—the two fell into a liberating romance. She was searching for the roots she never had, while he tried to escape his. Yet even after the two were doomed to part ways, their story isn't finished just yet.
Inspired by her own 10-year search for belonging in Naples, author Heddi Goodrich gives readers a passionate tale of a life caught between two worlds and a heartfelt ode to first love—of a place, of a person— where languages and cultures collide while dreams soar and crash in unexpected ways.
About the Author
---
Heddi Goodrich first moved to Naples for high school. She ended up staying for ten years, graduating from the University of Naples, L'Università degli Studi di Napoli "L'Orientale" with a masters in languages. She now lives and works in New Zealand. Lost in the Spanish Quarter is her first novel. She translated the work from Italian into English, herself.
Praise For…
---
"Lost in the is a luscious sensory experience of a novel. I could smell the sewage and the sea, taste the history in the descriptions of crumbling buildings, quarreling couples and sizzling oil. . . .  The story feels tactile, rich, and meditative, all at the same time."

— Leah Franqui, author of America For Beginners

"Heddi Goodrich is a magnificent storyteller who keeps us in the moment, while letting the shadows of the past close in, leaving the reader enthralled. I loved it. Bellissima!"
— Adriana Trigiani, bestselling author of Tony's Wife 

"Far from the deteriorating and claustrophobic rione of Elena Ferrante, and from the violent Gomorra of Roberto Saviano, Heddi Goodrich's is a third Naples - central, dense, vital - seen through the eyes of a foreigner who surprisingly found her most authentic voice there …"
— Cristina Taglietti, Corriere della sera

"One of the merits of the book, and maybe its strongest, is this language that the author almost had to invent, bending it to form unusual sounds especially regarding the syntax but also in terms of her choice of words: sown here and there with words as surpising as blooms in a field"
— Francesco Durante, Il mattino

"A declaration of love for Naples, and not at all superficial: it is powerful and authentic precisely because it is a foreigner's point of view, one that is not afraid of this vast city that is often difficult to comprehend."
— Pier Luigi Razzano, La Repubblica, Napoli