The Snakes: A Novel (Hardcover)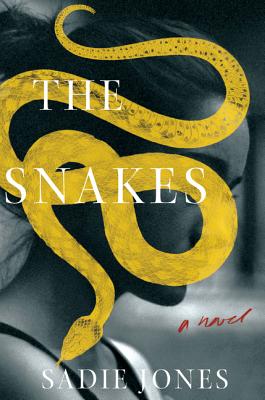 $26.99
Not in stock at store. Will, in most instances, ship from our warehouse in 7-10 days
July 2019 Indie Next List
---
"Breathless. This novel left me absolutely breathless. I found beauty in the multiple layers of sadness and tragedy of the characters and felt a unique sense of closeness to the main character. Jones has delivered an enthralling tale of personal exploration, leading us through scenes full of deep and raw emotion that leave the reader unsure where to place their alliance. Superb!"
— Jennifer Morrow, Bards Alley, Vienna, VA
Description
---
One of Washington Post's Best Books of 2019
"The Snakes is many things—a parable and an ancient drama where a father's greed devours his children, a police procedural, an avid take on tabloid venality, and a bitter comedy, superbly observed, where behind a woman's eyes she is 'all movement inside herself, like a wasp in a glass.' I admit that I'm still shaken by parts of this novel. Sadie Jones writes with pitiless aplomb and corrosive intelligence."                     
—Louise Erdrich
A chilling page-turner and impossible to put down, THE SNAKES is Sadie Jones at her best: breathtakingly powerful, brilliantly incisive, and utterly devastating.
Recently married, psychologist Bea and Dan, a mixed-race artist, rent out their tiny flat to escape London for a few precious months. Driving through France they visit Bea's dropout brother Alex at the hotel he runs in Burgundy. Disturbingly, they find him all alone and the ramshackle hotel deserted, apart from the nest of snakes in the attic.
When Alex and Bea's parents make a surprise visit, Dan can't understand why Bea is so appalled, or why she's never wanted him to know them; Liv and Griff Adamson are charming and rich. They are the richest people he has ever met. Maybe Bea's ashamed of him, or maybe she regrets the secrets she's been keeping.
Tragedy strikes suddenly, brutally, and in its aftermath the family is stripped back to its heart, and then its rotten core, and even Bea with all her strength and goodness can't escape.
About the Author
---
Sadie Jones is the author of five novels, including The Outcast, winner of the Costa First Novel Award in Great Britain and a finalist for the Orange Prize for Fiction and the Los Angeles TimesBook Prize/Art Seidenbaum Award for First Fiction; the enchanting, hard-hitting novel set on the island of Cyprus during the British occupation, Small Wars; her most successful, bestselling novel The Uninvited Guests, beloved of Ann Patchett and Jackie Winspear, among other; the romantic novel set in London's glamorous theatre world, Fallout; and most recently, the highly acclaimed, bestselling novel, The Snakes. Sadie Jones lives in London.
Praise For…
---
"Deliciously wicked…The novel's contemporary setting exhibits the markings of Gothic terror, with wry allusions to Frankenstein, Edgar Allan Poe and even Stephen King. But Jones coils all these old elements around new anxieties involving race and class…She's pursuing a wholly original story about the repercussions of trauma…The criminal story that emerges grows more shocking because of the rare quality of brutality in Jones's prose…She excels at drawing us into tender sympathy with her characters even as she coolly subjects them to the most monstrous treatment. The result is hypnotic—like staring into the serpent's eyes just before it strikes."
— Ron Charles, Washington Post


"The Snakes is many things—a parable and an ancient drama where a father's greed devours his children, a police procedural, an avid take on tabloid venality, and a bitter comedy, superbly observed, where behind a woman's eyes she is 'all movement inside herself, like a wasp in a glass.' I admit that I'm still shaken by parts of this novel. Sadie Jones writes with pitiless aplomb and corrosive intelligence."
— Louise Erdrich

"The Snakes is a creepy, scary novel about the corrosive effects of money and power and parenthood… Jones writes with cool, crisp prose about cruelty of many kinds; about class and race and power; and about regular people caught up in complicated situations that veer far out of control. She has an Ian McEwan-esque ability to provoke tension and anxiety… I would walk a long distance to procure one of Jones's daring, interesting, beautifully written, atmospheric books." "Provocative and propulsive"
— Sarah Lyall, New York Times Book Review

"Jones' portrayal of a dysfunctional family is as powerful as her depiction of provincial France in all its 'tasteful narrowness' and her merciless examination of greed, class and corruption…The book's desperate last act may constitute a jolting change of gear and direction, but that matters little because the events that unfold are so electrifying."
— Malcolm Forbes, Minneapolis Star-Tribune

"Corrosive secrets are slowly revealed as the story comes to a heart-pounding conclusion. Don't be misled by this book's title. Although a few creepy reptiles make an appearance, the real snakes in this twisty story are human ones. Another memorable novel from the versatile Jones."
— Library Journal, Starred Review

"Jones's propulsive yet thoughtful fifth novel grips readers from the first page…a tightly crafted, deeply moving, and thrilling story about how money corrupts and all the myriad ways members of a family can ruin each other."
— Publishers Weekly

"All families are dysfunctional in some way, but some, like Bea's family, ratchet dysfunction to dizzying heights… An understated, yet page-turning story."
— Booklist

"Sadie Jones has composed a fast-paced story, a reflection on the dysfunctional family of origin that questions principles/values and the sins that are committed in the wake of their disregard. Like the sound of the snakes moving across the hotel attic floor, 'The Snakes' will haunt you long after you've finished this book."
— Missourian

"I read The Snakes with a reader's delight and a writer's awe: Sadie Jones exerts such a powerful influence of creeping dread I found myself pausing both to recover my breath and to wonder how she had done it. It is somehow both pitiless - not least in its eviscerating portrait of the corrupting power of money, in which it recalls the novels of Edward St Aubyn - and ultimately possessed with a strange grace. Genuinely, a triumph."
— Sarah Perry, author of The Essex Serpent

"Finished The Snakes by Sadie Jones in the small hours last night. Gripping from the outset, then finally unputdownable. The writing is magnificent. One of the most powerful and uncompromising novels I've read in years."
— Jonathan Coe 

"Sadie Jones's fifth novel revisits the themes of isolation, shame and estrangement that we've come to look for in the work of this provocative and astute writer …The Snakes asks serious questions about human nature, avarice and justice, wrapped in the fast-paced rhythms of a thriller. It is written with Jones's trademark economy and a fierce attention to the nuances of familial cruelty…I finished The Snakes with a juddering heart, strangely close to tears."
— The Guardian

"A suspenseful, beautifully written thriller about the corruption of money and abuse within a dysfunctional family…This propulsive novel about venomous parenting is a serious investigation of avarice and justice, wrapped in the rhythms of a thriller."
— The Guardian

"She knows how to construct a narrative of great emotional power. Her prose is crisp and precise, studded with spiky observations."
— The Spectator

"I am blowing the trumpet for The Snakes to anyone who'll listen. I devoured the book, awed by its beauty and brilliance. We'll be lucky if 2019 brings us much else of this rank. This is wickedly good writing and something really special. Sadie Jones has talent to burn."
— Billy O'Callaghan

"An instant modern classic. The Snakes is superbly written, each sentence punctuated by a drumbeat of menace, each word placed with a master's touch. I keep thinking about the questions it poses: about what it is to be good in these imperfect times; about how we can protect our humanity in the face of narcissism and greed. Yet for all its depth and mystery, The Snakes is also just a thrillingly good read."

— Elizabeth Day


"Masterful, terrifying, dangerous, with an ending that is as uncompromising as the build-up is truthful. The Snakes is as beautifully written as it is dark and honest."

— Rachel Joyce


"I was absolutely gripped by this original and beautifully-told story of a couple enmeshed in a nest of vipers – a rich family of criminals. It's evocation of a sinister French house, the corruption of love and the powerfulness of good is both haunting and chilling. Nobody contemporary writes about unhappy families as well as Sadie Jones."

— Amanda Craig


"I was expecting this to be good. But I was awestruck. This is all-consuming from the first page to the devastating final paragraph…What follows is completely gripping: a story of the coruscating effects of money, greed and corruption. It is a stunningly good novel, and I may not read a better this year."
— The Bookseller, Book of the Month

"Ever since her debut, The Outcast, Jones has peopled her propulsive plots with nuanced, dimensional creations, imbued with human failings and graces. The Snakes is no exception…Jones crafts a pitiless shock ending; a denouement that refuses closure and resonates long after the book is set aside, because of its appalling implications…  [The ending is] bound to become a talking point"
— Financial Times 

"Elegantly atmospheric …Jones is excellent on the English obsession with status. While her denouncement is risky, its abrupt swerve left me breathless."
— Daily Mail

"A breathtaking view of family dysfunction Sadie Jones… shows a craftier way to tackle the city's division in her menacing new contemporary thriller The plot zigzags unpredictably to a brutally stark finale that steals the breath."
— Anthony Cummins, Metro

"Jones has a way with the unworthy thoughts that follow even the most well- meaning and mild of characters."
— Jonathan McAloon, Irish Times

"Jones's style is immediate and lively, and she is particularly good at dialogue, which she uses a great deal, often to advance the fast-paced plot."
— Elisa Segrave, Literary Review

"Jones makes smart use of French police procedure, and the end is devastating."
— Jeffrey Burke, Mail of Sunday

"If you covet a gripping thriller as much as the next noir-loving woman, put Sadie Jones' The Snakes on your hit list."
— Stylist

"Well-crafted, sinister novel about the corruptive power of wealth, the instability of family relationships and the bleakness of addiction."
— Woman & Home

"The Snakes has all of Jones' trademark depth and layered storytelling."
— Red
Coverage from NPR