Welcome to Subterranean Books.
Thanks for checking in.
______________________________________________________________
Thor's Serpents (Blackwell Pages #3) (Paperback)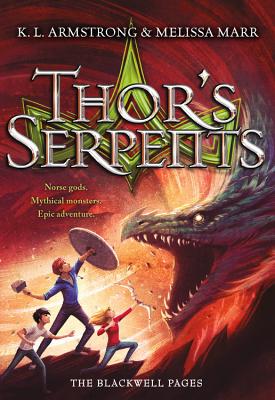 $8.99
Usually Ships from Warehouse in 1-5 Days
Description
---
For fans of Percy Jackson and the Olympians, the thrilling conclusion in The Blackwell Pages, written by New York Times bestselling YA authors, K.L. Armstrong and M.A. Marr. Thirteen-year-olds Matt, Laurie, and Fen have managed to assemble the descendants of the Norse gods and find Thor's hammer and shield. Together, they're ready to face down the monsters bringing the end of the world. But when Fen is pulled to be the head of the pack of wulfenkind, and they discover that only Matt can fight the Midgard Serpent, the friends realize that they can't take every step of this journey together. Fen, Laurie, and Matt will each have to fight their own battles to save the world, to be true to themselves, and to one another. Only then do they stand a chance of changing their destiny and making it out alive.
About the Author
---
K.L. Armstrong and M.A. Marr had been friends for several years and found themselves spending hours talking about mythology and monsters. With that shared interest, in addition to K.L.'s love for tackling creatures in video games when not writing (and sometimes when she's supposed to be writing), their monster and myth fixation, and the books they read with their 11- to 13-year-old sons, they knew they had to write the Blackwell Pages. K.L. Armstrong and M.A. Marr invite you to visit them online at blackwellpages.com.